Rallying for Rights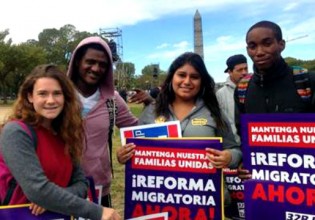 Last week a group of 14 Goucher students took up the issues of immigration and border control at the "Camino Americano: Concert and March for Immigrant Dignity and Respect" in Washington, DC. Tens of thousands came to the National Mall to share stories of suffering and strength and demand passage of immigration reform.
Goucher's student participation was spurred by Fernando Parra Chong's '16 involvement with CASA de Maryland, a local Latino and immigration advocacy and assistance organization. CASA de Maryland was a sponsor of the rally, along with the National Hispanic Foundation for the Arts, the AFL-CIO, SEIU and many others.
Chong began volunteering with CASA de Maryland to fulfill the 15 hours of community-based work that is required in Spanish 263, "Spanish in the Workplace: Language and Culture."
"Speaking Spanish on site and interacting with community members helps students improve their language skills and increase their intercultural competence and sensitivity," said Assistant Professor Aida Ramos-Sellman, who teaches the class. It also increases awareness of how to get involved to help improve community problems and issues of social injustice.
Chong said that after spending volunteer time recruiting people for the rally, he realized other of his peers also might be interested. He spoke with different Spanish classes, sent emails, and worked his residence hall, eventually garnering a group for the bus ride down.
He said the participants, all first-year students, spoke highly of the experience. "Seeing not only Hispanics, but also Asians, blacks, and Congress members rallying together for immigration reform, it was really emotional for me," said Chong. "There's a lot of personal growth being in those experiences instead of just hearing about it and looking at it on television."