Goucher's MADArts Program Helps Filmmaker Hone His Craft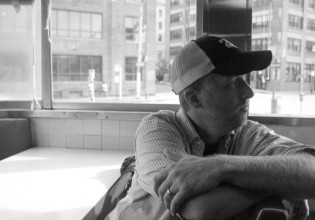 Early this September, Kris Raser, a student in Goucher College's Digital Arts Program proudly sat among about 200 people gathered to watch the premiere of Toobie, the story of a typical 15-year-old trying to blend in at school and get by—without any trouble from bullies.
Raser had helped develop, write, produce, and score the movie to spark conversations about bullying, the power of education, and the ripple effect of making positive decisions. Toobie is the cornerstone video piece to educate middle-school students who attend NorthBay, an environmental and character education facility in Cecil County, Maryland. The facility serves about 10,000 students from the Mid-Atlantic region each year.
"NorthBay's mission is to encourage middle school students to remember that their attitudes and their actions affect the environment, their future, and the people around them," says Raser.
Toobie is shown to students in chapters each evening during their five-day stay at NorthBay. The movie is seen from the conflicting and converging perspectives of four high school students, including the main character, Toobie, and Marcus, a bully who is also bullied at home. Toobie has to decide whether he will step up and confront Marcus, protect a friend, and end the cycle of bullying.
The movie was written and produced by the facility's in-house creative team, NorthBay Media Productions, of which Raser is the media arts manager. He is also a student in Goucher's multidisciplinary Master of Arts in Digital Arts Program, which integrates music, animation, design, computer programming, web development, entrepreneurship, new media studies, and related fields.
"As a digital arts student in the program at Goucher, I feel like the focus that we have on music, storytelling, and design all played a role in the development of Toobie," says Raser. "There is a broad range of classes in the program, and there were a lot of crossovers as I worked on this project. I think that Goucher's graduate programs—the Digital Arts Program specifically—set us up to succeed."
Raser says his work at NorthBay and with Toobie has been enriched by his coursework at Goucher, especially Contemporary Storytelling (developing and writing the script), Financial Skills and Managerial Accounting (managing the budget), Audio Techniques (writing and recording movie score segments), Media on the Internet and Web Development (creating the toobiemovie.com interactive website), Effective Digital Artist Management (planning and executing a creative project), and Strategies for Reaching the Media (publicizing the film and NorthBay's mission).
He adds, "Connecting the dots from Goucher's Digital Arts Program to the Media Arts Department at NorthBay, I use the skills I'm learning in this graduate program to train others, as well as to reach the next generation."
Paul Lempke, a faculty member of the Digital Arts Program, had Raser in his Motion Graphics class last summer and is now instructing him in the course 2D Design for Print and Web. Lempke says, "The program's curriculum exposes our students to a wide variety of techniques and theory that can be applied to many real-world projects. Raser's film production is a great example of how our students are involved in projects outside of their coursework. His experience doing this movie and what he is able to share from it enriches our learning community at Goucher."
Goucher's Master of Arts in Digital Arts is a limited-residency degree, meaning classes are primarily held online and are complemented with two one-week, on-campus residencies. This format allows the program to recruit the best faculty from across the nation and draw a diverse student population, and it gives students enormous flexibility to fit the program around their daily lives.
"The graduate program in digital arts at Goucher is about flexibility," says Michael E. Scott-Nelson, the academic program director. "Our students come here to develop a wide range of creative skills that empower them to work across disciplines in a variety of settings. Because their knowledge bridges gaps, they have a degree of creative liberty that many others are unable to access."
Throughout the course of the academic year, students and faculty maintain close contact using online, interactive classrooms, as well as other forms of written and verbal communication. The program culminates with all students doing a capstone project that allows them to demonstrate the use of their skills out in the world.
"After taking a break from school for a while, being at Goucher and working on the movie reminded me how important education is," says Raser. "I am just privileged to be at Goucher, and I love the Toobie project, too."