Taboo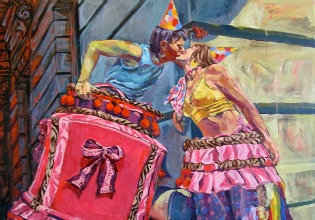 In Taboo, artist Joan Cox orchestrates and captures intimate moments between lesbian lovers.
The exhibit, which is free and open to the public, runs in Goucher College's Silber Gallery from Tuesday, October 22, to Sunday, December 8, and can be viewed Tuesday through Sunday from 11 a.m. to 4 p.m. An artist's reception will be held Friday, November 8, from 6 to 9 p.m. For more information, visit www.goucher.edu/silber or call 410-337-6477.
Over the past two years, Cox has orchestrated and captured intimate moments between lesbian lovers through photography. She then translates the photos into large-scale paintings and monotypes to produce a personal and fresh perspective. The solo exhibition uses narrative, historical art references, theatrical elements of costumes, and autobiography to acknowledge and emphasize the female gaze.
Her work initiates a dialogue about the increasingly open presence of lesbian couples in contemporary society and the lack of their presence in the history of Western art.
For more information on Cox, visit www.joancoxart.com.