Official Opening of the Academic Center at Julia Rogers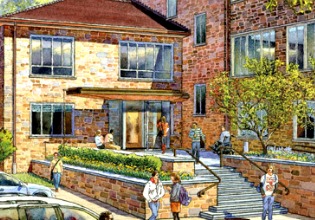 After a $25 million renovation of its former library, Goucher College is ready to unveil its new state-of-the-art academic center. There will be a ribbon-cutting ceremony and official opening of the new Academic Center at Julia Rogers on Saturday, October 5, at 10:15 a.m.
This event is free and open to the public. After the ceremony, the building will be open to the public for tours and classroom demonstrations as part of Goucher's Family Weekend, October 4-6.
The Julia Rogers building once served as home to Goucher College's library, known as the Julia Rogers Library. With the completion of the Athenaeum in 2009, the library moved to its new location in the middle of campus. Originally built in 1952 as part of the initial Towson campus construction and added onto in 1968, the Julia Rogers building served the college for more than 50 years.
The renovation of the Julia Rogers building has provided 16 classrooms and teaching labs, including advanced teaching labs for physics and computer science; 10 conference and seminar rooms; 77 offices for full-time faculty; and 15 faculty research labs for math, physics, and psychology faculty. These added spaces allowed for the consolidation of various academic departments' offices, supporting the relationships between departmental faculty members, with colleagues faculty members from related departments, and most importantly, with students. With its renovation and new uses, the new Academic Center at Julia Rogers provides the opportunity to weave together the science and liberal arts disciplines on Goucher's academic quad.
The reuse of the Julia Rogers building also supports Goucher's commitment to build and renovate in a more environmentally conscious way on campus. In accordance with a 2009 campus policy, Goucher completed this renovation with the goal of at least achieving a Silver rating according to the US. Green Building Council's Leadership in Energy and Environmental Design (LEED) Green-Building Rating System.
The Academic Center at Julia Rogers has revitalized an important part of Goucher's history and has given the college dynamic new space in which to grow its renowned liberal arts education.