Goucher Holds 21st Annual Renie Amoss Memorial Race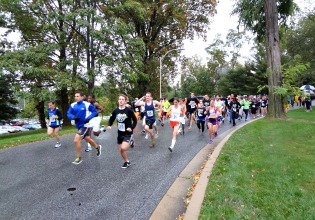 The 21st Annual Renie Amoss Memorial Race will be held at Goucher College on Sunday, October 6, at 9 a.m. in conjunction with Family Weekend.
Sponsored by the Goucher Athletic Department, the race is a tribute to Corene "Renie" Amoss '93, a three-sport athlete and honors student who majored in economics and management before she died in an automobile accident in 1993. Amoss was inducted into the Goucher Sports Hall of Fame earlier in 2012 for her outstanding contributions to the college's intercollegiate athletic program.
Go to http://olympus.goucher.edu/familyweekend/eventregistration.aspx to register and pay for the 5K race or the 2.5K walk; people may also contribute to the fund without registering for the race. Participants may also register and pay in person in the lobby of the Decker Sports and Recreation Center (SRC) from 1 to 4 p.m. on October 5 or before the race on October 6. Registration is $15 for adults and $10 for students and children; on race day, fees increase to $20 for all participants. The race will start in front of the SRC.
The proceeds from the memorial run go toward the Renie Amoss Fund, which grants monetary awards each school year to Goucher College students who have established an exceptional academic record while participating in more than one aspect of co-curricular student life on campus. Race proceeds, fundraising events, and generous donations have brought the trust fund total to more than $150,000. Investment returns have been used to fund annual awards to more than 40 Goucher students, including this year's awardees, Freshta Akbari, Lenna Blaser, Joseph Fink, Jonathan Jayes Green, and Collin Hayes.
The run began in October 1993 and is sponsored by Goucher's Athletic Department, with strong support from the college administration and Alumnae/i Affairs. Some participants are serious runners who compete for the prizes that are awarded at the post-run ceremony, while most participants just enjoy the cordial social atmosphere of the race around the campus and the chance to win raffle prizes afterward.
Visit www.RenieRun.com for more information about Renie Amoss and to view photos from prior races.