Summer Science Series: Can a frog shed light on your own metabolism?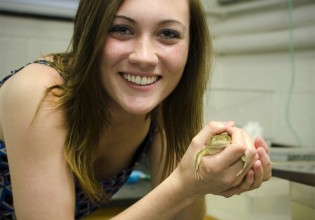 Frogs and alligators need 10 times less food than a mammal of the same size. That astonishing difference is based on the animals' metabolisms, and Rachel Mann '14, a summer science researcher at Goucher, is looking for an explanation.
It's generally understood that cold-blooded animals have lower metabolic rates than mammals, but it's not completely known why. To study possible reasons, Mann, a chemistry major with a pre-med concentration, is spending her summer researching African clawed frogs. She varies their diet and other environmental factors, then analyzes their plasma using modern metabolic profiling techniques.
Mann said that the evolution of cold-blooded animals must have emphasized some major shifts in their metabolism. It is believed the changes involved the way animals use fats and proteins and how the metabolic pathways are regulated. In addition to understanding the basics of metabolic evolution, her research could also contribute to the understanding of obesity, Type 2 diabetes, and maybe even the metabolism employed in cancer cells.
Mann said the research perfectly marries her two academic interests. "I like that it spans biology and chemistry," she said. "This is really the best of both worlds; I get to solve a biological problem using chemistry technology, which is exciting."
Mann started the project a year ago and is working with advisers George Delahunty, professor of biology, and George Greco, professor of chemistry. The initial research has shown some interesting differences, but they are not sure of their implications yet. "The differences between frogs and humans are difficult to explain at this point. Metabolic profiling is a new field, and none of this has been studied before," Mann said.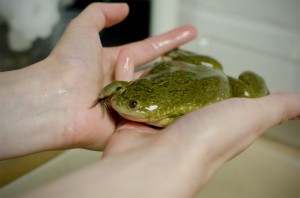 Being able to conduct her own research, and be supported while doing it, is what first attracted Mann to Goucher. "I just love everyone in Hoffberger," she said. "It's such a cohesive, supportive environment here. That's why I went to Goucher in the first place—everyone takes an interest in each other's work; it's just really a great learning environment."
Mann is one of 23 students working with 15 faculty members during the 2013 Summer Science Research Program at Goucher. Undergrads work with professors on research in biology, chemistry, mathematics and computer science, physics, and psychology while living on campus and being paid a stipend.
For more information, visit the website.