Colony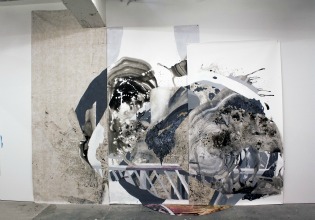 In Colony, Katherine Tzu-Lan Mann's paintings show how patterned, highly wrought, decorative elements coalesce and then dissolve back into the organic environment.
The exhibit, which is free and open to the public, runs in the Rosenberg Gallery on Goucher's campus from Wednesday, June 12, to Sunday, September 1. The art can be viewed Monday through Sunday from 9 a.m. to 5 p.m.
An artist's reception will be held in conjunction with Artscape's satellite opening receptions, on Wednesday, July 17, 6-8 p.m. Call 410-337-6477 or visit goucher.edu/rosenberg for more information.
Mann's paintings begin with a stain of color, the product of ink and water evaporating from the paper as it lies on the floor of the studio. From this shape, she creates a landscape using diverse, decorative forms—braids of hair, details from Beijing opera costuming, lattice work, and sequined patterns. Although founded in adornment, these elements are repeated until they appear organic. Mann thinks of her work as baroque abstract: a celebration of the abundance of connections and clashes that can be found in the disparate mess of matter in the world.
For more information on Mann, a Maryland Institute College of Art MFA and Fulbright Scholar, visit www.katherinemann.net/.