We need your vote!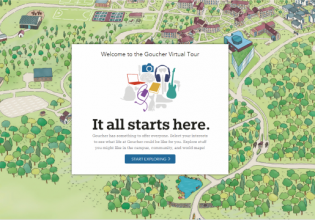 Cyberspace is a big place—which makes it even more impressive that the Goucher College Virtual Tour is one of the projects up for a Webby Award, sometimes referred to as the Oscars of the Internet. You can vote for us here in the school/university best website category. We are up against the University of Maryland, the University of Chicago, the New School, and the Salt Institute.
Voting ends Thursday, April 25, and winners will be announced Tuesday, April 30.
The tour is a part of Goucher's new website, launched last November. The interactive virtual map shows important features of the college's campus, plus regional attractions and study-abroad programs—all with photos, related links, and information.
The group behind the awards, the International Academy of Digital Arts and Sciences, is a global organization of industry experts and technology innovators. Nominees are selected for recognition based on excellence in content, structure and navigation, visual design, functionality, interactivity, and overall experience.
This is the 17th Webby Awards. More than 11,000 entries were received from more than 60 countries, the most in its history.