Goucher Repertory Dance Ensemble Spring Concert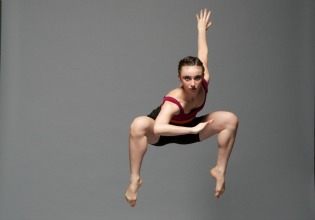 The 2013 Goucher Repertory Dance Ensemble Spring Concert – held Friday, April 19, through Sunday, April 21 – will feature Goucher students performing ballet and modern works by guest artists Darrell Grand Moultrie and Melissa Barak, as well as works by Goucher Associate Professor of Dance Elizabeth Ahearn and senior Hayli Throckmorton. Also on the program will be George Balanchine's Concerto Barocco, staged by former New York City Ballet soloist Deborah Wingert, and Pascal Rioult's Wien, staged by Brian Flynn.
The concert will be presented at 7:30 p.m. on Friday and Saturday and at 2 p.m. on Sunday; all performances will take place in Kraushaar Auditorium and are open to the public. Tickets are $15 general admission and $5 for students, and senior citizens. Reservations can be made in advance at www.goucher.edu/tickets or by calling 410-337-6333. Tickets also will be available at the door.
Attendees will also have a chance to meet the artists at a pre-show welcome event on Friday at 6:45 p.m. in Goucher's Rosenberg Gallery.
Moultrie, the Spring 2013 modern guest artist, is a performer, master teacher, and choreographer. The Juilliard School graduate has carved out an impressive career that spans from performing on Broadway to choreographing national television works, all while cross-pollinating genres, pushing boundaries, and embracing diversity.
Wingert, the Spring 2013 ballet guest artist, has received awards for her own choreography and has travelled throughout the United States and Europe setting Balanchine repertoire. As a member of the New York City Ballet, she danced more than 25 principal, soloist, and featured roles.
Considered one of Balanchine's greatest masterpieces, Concerto Barocco was one of three ballets on the program at New York City Ballet's first performance in 1948.
Students will also perform Ahearn's contemporary ballet "Dyads," which will explore how the relationship between two people involves their mutual ideas, thoughts, behavior, and ideals. Throckmorton's work, "The Inside of a Shadow" will use organic movement to represent the unconscious mind.