Hydroflow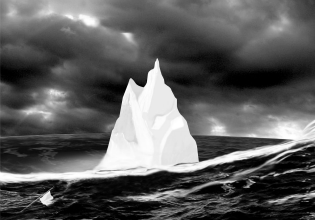 In Hydroflow, a new art exhibit at Goucher College, 10 artists present works that explore the multifaceted aspects of water.
The exhibit, which is free and open to the public, runs in the Silber Art Gallery on Goucher's campus from Tuesday, April 9, to Sunday, May 19. The art can be viewed Tuesday through Sunday from 11 a.m. to 4 p.m. An artists' reception will be held Friday, May 10, 6-9 p.m. in the Silber Gallery. Visit www.goucher.edu/silber or call 410-337-6477 for more information.
Artists Christian Benefiel, Sukey Bryan, Mike Calway-Fagen, Eric Dyer, Matthew Fisher, Allyn Massey, Lisa Moren, Matthew Northridge, Calla Thompson, and Elena Volkova use paint, photo, video, sculpture, and installation for their interpretations.
With his sculpture of marine materials, Christian Benefiel references the practice of using inflatable membranes to raise sunken ships from the sea floor. The expansion of form puts a quiet pressure on the viewer's personal space, while the subtle rising and falling of the inflation cycle mimics the tidal motion of the ocean.
Water is the constant subject of Sukey Bryan's paintings and prints. Her images of glaciers in various stages of solidity and thaw are meant to highlight their transience, as well as their beauty and majesty. She explores natural environments, learning as much as she can about the science that influences them, while seeking to respond to their visual impact.
Mike Calway-Fagen has always been allured by exploring water with rubber boots, and his work as a Smoky Mountains fly fishing guide influences his art today. Water hides things in an unflinchingly raw way with layers, stratified through air, materials, minerals, movements, transference, and time. He approaches ideas aware that they are not completely graspable, but slippery, like water.
In his video Eric Dyer uses manhole covers, the often-overlooked gateways into civilization's sewers, imprinted with patterns that become a crazy rush of kinetic visuals when spun. The art should inspire viewers to imagine the underground sights and sounds as the wastewater makes its way to the Chesapeake Bay and its rivers.
In Matthew Fisher's imagery, sunsets, birds, wind, and waves are frozen in place, reconfirming knowledge of water, land, and sky. The familiar horizon is constantly hinting at the potential of distant lands just out of sight, while endless cycles of the sea and sun count the days, months, and years.
Whether working with large-scale installation or constructing objects, Allyn Massey considers space, interval, sound, and scale as raw material. Throughout her work, materials—such as lead, glass, rubber, water, pumped air, steel, or clay—are chosen for emotional weight as well as formal properties, each sometimes paired with its metaphorical or physical opposite: hard/soft, warm/cool, sounding/soundless.
Most recently interdisciplinary artist Lisa Moren has been creating pigments out of polluted waterways, including her project "Chesapeake Bay Water Watercolors." Her exhibit presents original photographs, works on paper, and an essay on her experiences collecting oil from the Deep Water Horizon rig spill for a series of marbleized papers.
Matthew Northridge's sculpture is an expansive landscape. Constructed of gray paper, pieces may be added and the whole reconfigured with each installation. It is a work in progress, in which each unit only truly functions relative to its position in the grid. The rigid confines of each square present frames ranging from organic to geometric to show a mere fragment of a community and dysfunctional fantasy.
Calla Thompson's series examines the landscape of the artic: impenetrable, distant, and foreign to most. Her inquiry depicts the iceberg, emblematic of the north, as unsettling and devoid of humans and politics. There is challenge and tension inherent in the human presence and impact over which the icebergs loom.
Elena Volkova focuses on natural elements, where she explores the threshold between nothing and something, and the ways in which they inform and question each other. Her photography focuses on forms easily recognizable and universally understood: water, sky, and land, forms that are part of the everyday world. The water is in tangible forms such as snow, rain, and the sea, but also in more ephemeral and tenuous cloud landscapes.