Faculty Books on Display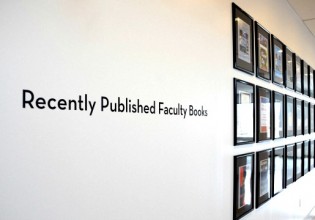 Judging a book by its cover is generally considered a bad thing, but a stroll in the Athenaeum shows a display of Goucher faculty books that maybe should be judged by their covers.
"It is quite impressive," said Provost Marc Roy.
The books, focusing on Russian second-language acquisition to the life of Mary Todd Lincoln, and an exploration about Charm City to state election rules, were hung to show the breadth of scholarship and research among the faculty ranks at Goucher.
Roy said as far as he knows it's the first time faculty book covers have been displayed as part of an exhibit at Goucher. Though faculty are seen teaching every day, it's also essential to recognize their relevant work as they stay current in their fields. "Writing and publishing a book is a huge project," he said. "It is important that we acknowledge and celebrate this accomplishment, along with other faculty scholarship."
The display will remain and books will cycle through as new books are published. For a closer look at the display, visit the Athenaeum second floor, and to learn more about other faculty accomplishments, visit the provost's page here.
To see what's up with our Goucher community as a whole, visit the Kudos section of the In the Loop page, and if you have an achievement to add, let us know! E-mail InTheLoop@goucher.edu.