Goucher Hillel Dedicates First Torah Scroll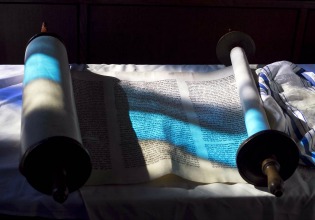 Goucher Hillel received its first Torah scroll last year, a Czech memorial scroll, which was transferred to the college Hillel from Shaare Tikvah Congregation of Waldorf, MD, by the Memorial Scrolls Trust of London's Westminster Synagogue. 
The scroll, written in 1831 in the city of Brno (now Czech Republic), was one of almost 1,600 Torah scrolls saved by the Jewish community of Prague during the Holocaust. About 1,400 of these scrolls have been restored and are serving Jewish communities worldwide. 
Goucher's scroll needs significant restoration, and a sofer (ritual scribe) has been engaged to carry out the repairs. The Torah will be dedicated on Thursday, May 2, at 7:30 p. m. in Hyman Forum of the Athenaeum. The dedication will be held in conjunction with Goucher Hillel's annual meeting, and all are welcome.
For more information, contact Lola Hahn, Goucher Hillel development director, at lola.hahn@goucher.edu or (410) 843-7450.