Spring 2013 Robert and Jane Meyerhoff Visiting Professor: Nicholas D. Kristof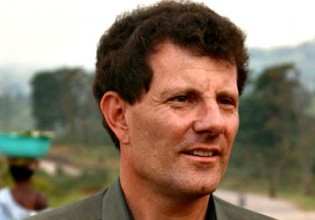 Nicholas D. Kristof—journalist, author, New York Times op-ed columnist, and a winner of two Pulitzer Prizes—will appear at Goucher College as the Spring 2013 Robert and Jane Meyerhoff Visiting Professor. His talk "Half the Sky: Turning Oppression Into Opportunity for Women Worldwide" will be held on Monday, March 11, at 8 p.m. in Kraushaar Auditorium.
In his talk he will address the worldwide mistreatment, marginalization, and brutality toward women and will draw a compelling picture of the trials and triumphs of women struggling for opportunity and equality.
This event is open to the public, but tickets are required for all attendees. Tickets are free for Goucher students, faculty, staff, and alumnae/i; $10 for general admission. Reservations must be made in advance by logging on to www.goucher.edu/tickets or by calling 410-337-6333.
After joining The New York Times in 1984, initially covering economics, Kristof served as a Times correspondent in Los Angeles, Hong Kong, Beijing, and Tokyo. He also covered presidential politics and later was made associate managing editor of the Times, responsible for Sunday editions.
In 1990 Kristof and his wife, Sheryl WuDunn, then also a Times journalist, won a Pulitzer Prize for their coverage of China's Tiananmen Square democracy movement. Kristof won a second Pulitzer in 2006 for what the judges called his "graphic, deeply reported columns that, at personal risk, focused attention on genocide in Darfur and that gave voice to the voiceless in other parts of the world." He has also won other prizes, including the George Polk Award, the Overseas Press Club award, the Michael Kelly Award, the Online News Association Award, and the American Society of Newspaper Editors Award.
Now as a columnist for the Times since 2001, Kristof writes op-eds that appear twice a week. His columns have often focused on global health, poverty, and gender issues in the developing world.
In addition to the book also titled Half the Sky: Turning Oppression Into Opportunity for Women Worldwide, Kristof and WuDunn are authors of China Wakes: The Struggle for the Soul of a Rising Power and Thunder from the East: Portrait of a Rising Asia.
Kristof graduated Phi Beta Kappa from Harvard College and then studied law at Oxford University on a Rhodes Scholarship, graduating with top honors. He later studied Arabic in Cairo and Chinese in Taipei. Kristof has lived on four continents, reported on six, and traveled to more than 140 countries, plus all 50 states, every Chinese province and every main Japanese island.
The Jane and Robert Meyerhoff Visiting Professorship was created to bring distinguished scholars, teachers, and practitioners to Goucher's campus to advance local and national dialogues on pressing issues of our time. Previous speakers have included Doris Kearns Goodwin, Pulitzer Prize-winning American biographer; Cory Booker, mayor of Newark, New Jersey; Jane Goodall, British primatologist, ethologist, and anthropologist; staunch preservation advocate Robert F. Kennedy Jr.; Thomas L. Friedman, the three-time Pulitzer Prize-winning journalist and world-renowned author; and the late Dr. Wangari Muta Maathai, the Kenyan environmental and political activist who, in 2004, became the first African woman to receive the Nobel Peace Prize.