Thinking Globally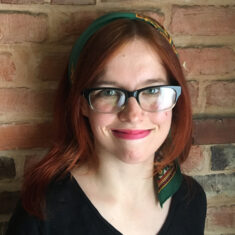 This fall, Beth Vander Stoep joins Goucher Hillel in a new full-time staff position as the global Jewish life and engagement coordinator.
In January, Goucher Hillel completed a strategic planning process that emphasizes programming with deeper Jewish content and engagement with diverse perspectives and identities. Through conversations with students and partners at Goucher College and the Associated, the global Jewish life and engagement coordinator position came into focus. The position, which is funded by the Associated: Jewish Community Federation of Baltimore, integrates Israel education as a part of a holistic approach. As her title suggests, Beth will focus on engaging a broad community of students, along with developing innovative programming connecting students with Israel and worldwide Jewish communities.
The global Jewish life and engagement coordinator is a position designed through a collaborative process, uniquely suited to Goucher's campus in that it incorporates Goucher's commitments to global awareness and social justice into Hillel's core work—serving the needs of Jewish undergraduate students. Throughout our interview process, it was clear to all our stakeholders that Beth has the unique blend of experience, knowledge, and adaptability to energize and engage our students in this role.

– Rabbi Josh Snyder
What is your name and where are you from?
My name is Beth Vander Stoep! I'm originally from Southwestern Washington state!
Where did you work before coming to Goucher Hillel?
I previously worked as an advocacy coordinator for McMaster Hillel in Hamilton, Ontario. Before that, I served for a year in the U.S. AmeriCorps while completing my master's in sustainable communities at Northern Arizona University!
Why did you choose to come work for Goucher Hillel? Why Goucher Hillel?
I was really drawn to this position because of its hybridized role and position on a small campus. In my previous role at McMaster I was serving in a similar capacity as a dual program director and Israel/Jewish advocacy educator. I was drawn to the creativity and flexibility that can come out of this position. I liked that Goucher is a small, close-knit campus situated in a vivacious urban area. As a young professional I think that gives me the best of both worlds by enabling me to enjoy the excitement of city living while focusing on supporting an existing small community.
What is it you will be doing at Goucher Hillel?
I'll be building student engagement while partnering with students to create innovative programming around Israel, the Diaspora, and our position as Jews in a global landscape.
You are the first person in this role—why was it created?
To my understanding it was created because there was a real need to expand programming to look at Jewish life from a holistic perspective. As someone with an academic background specifically focused on building Jewish community, I think there's a classic dichotomy of Israel vs. Diaspora and we have to be talking about either one or the other. This position enables me to have deep conversations: Where are we coming from, what are the Jewish narratives around the world that we are not hearing, and how can we retell the greater Jewish story to be more inclusive?
What do you hope to accomplish/achieve in your position?
My greatest hope for this position is to have students know they are welcomed in the Hillel space and the greater Jewish community. If at the end of the day I can go to bed knowing that at least one student I spoke to felt that their Jewish story had been validated and that this space belongs to them, I consider that a great day.
What are you most excited for?
I'm most excited to have one-on-one coffee with students. I know that it sounds cliché, but I think that those spaces of taking intentional time to get to know students and learn about what excites them are the best way to grow campus community.
What is your biggest priority?
My biggest priority is making sure that Hillel is providing the supportive community infrastructure students need to thrive. I think COVID-19 has forced us all into a position of reevaluating our roles as campus professionals and the purposes of the communities we are creating. If we aren't first serving as a safe place for our students to feel grounded and safe, we aren't doing our jobs.
You are starting this position virtually—how has that been? Have there been any particularly hard challenges or unexpected positives?
Starting this position has had a unique set of challenges and positives. As a seasoned Hillel professional I'm used to not working in an office, but it's an interesting experience working from home without the option of going to a coffee shop or campus. The biggest challenge I have had so far has been resetting a computer from Hebrew into English. An unexpected positive of working from home is having intentional time to eat lunch every day with my partner, who is also working remotely.