Hillel Plays Key Role for Students during Remote Semester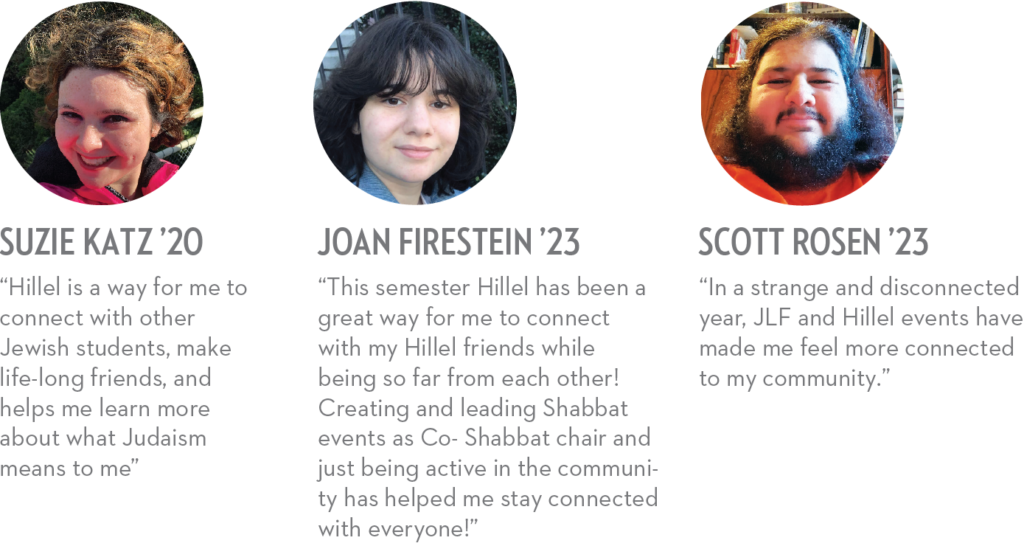 The beautiful traditions of this holiday—lighting the menorah each night, eating delicious latkes, spinning the dreidel, and exchanging presents—are something we cherish and hold dear, especially in challenging times like these. And these joyous rituals connect the Jewish students we serve and us to something even bigger—the Jewish people, sharing the same traditions and blessings all over the world.
As the coronavirus continues to uproot the lives of the 350+ Jewish students at Goucher College, it is even more important that Hillel and our compassionate, highly trained staff are right there with our students every step of the way. When Goucher classes moved online in March, we moved Hillel online, offering programming and innovative ways to build community. We will continue to be present with our students no matter what, thanks to your support.
Now more than ever, our students need the community and connection that Judaism offers them, both spiritually and emotionally. Can I count on you to make a special tax-deductible Hanukkah gift of $50, $100, $180, or more to help support the Jewish college students who rely on Hillel during these difficult times?
Thanks to supporters like you, Goucher Hillel will be there for our Jewish students, in good times and bad, encouraging them to build relationships with one another and helping them explore our traditions and values to enrich the Jewish people and the world.
The value of these experiences and opportunities—that your gift will make possible—go well beyond college: Research has shown that participating in just one activity with Hillel can have a lasting and positive effect on Jewish students. Students who participate in Hillel are twice as likely to celebrate Shabbat and Jewish holidays, volunteer and give to charitable causes (tzedakah), and become leaders in their local Jewish communities after graduation.
Your gift to Hillel today, like the shamash—the helper candle that lights all the other candles on the menorah each night of Hanukkah—will touch the lives of current students as well as future generations to come.
Just as the light from the shamash grows brighter with each new candle it lights, your special Hanukkah gift to Goucher Hillel will reach one Jewish student, then another, and another, creating a stronger and brighter future for Judaism and all of us.
Thank you in advance for your generous gift to Hillel and to the Jewish students at Goucher who turn to us to light the way, now and for years to come.
May you and your family have a joyous Hanukkah!
Rabbi Josh Snyder
Executive Director
Marla Block Mendelson
Chair, Board of Directors
Louisa Fusco '21 & Leah Soyer '22
Student Co-Presidents
P.S. Your gift to Hillel this Hanukkah will help to create a vibrant, welcoming Jewish community for our students all year round. Please be as generous as you can!