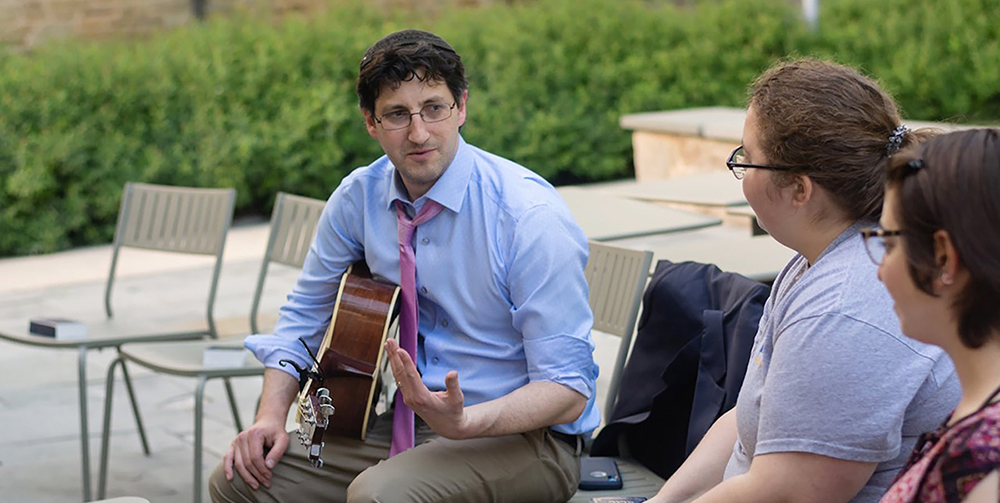 Adapting and Innovating
Dear Goucher Hillel Community and Supporters,
When I last gathered in person with our students, it was to honor our outgoing assistant director, Rachel Plotkin, shortly before Spring Break on March 12. It gave us a chance to look back on Rachel's six years of impact, and on what had been a year full of Hillel programs and connections to that point, as we stood on the edge of a change none of us anticipated. After we said our goodbyes, I loaded up my car with as much of my office as I could carry. I had a sense that our students and I wouldn't be back together in the lounge for a while.
Over the next month, our students and I grieved the loss of time together on campus. I had to figure out how to juggle online schooling for my kids with work, while taking on some of the assistant director duties. I put the challenge to the student leaders to come up with and drive our programming for the last half of the semester. The Jewish people throughout history owe their survival to their ability to adapt to new environments, and we could follow suit.
Unsurprisingly, our students rose to the occasion, deftly maneuvering programming and meetings into virtual space. Weekly Shabbat services via Zoom and Facebook provided an opportunity to connect and mark the end of another week just as they had on campus. Virtual social gatherings gave everyone a chance to breathe. Weekly spirituality and ethics sessions enabled students to engage Jewish tradition deeply. We gathered with our families for a fun student-led Zoom Seder. As we did so, we evaluated everything in order to plan for even more effective virtual programming in the future, in ways that would uphold our values and invite others in.
I imagine that some aspects of this story may relate to each of you. The last few months have challenged each and every one of us to take on new roles, let go of expectations, and find new ways to connect with one another. Seismic changes to society as we know it are occurring every day. We are all processing the news—particularly as it relates to COVID-19 and racism—and figuring what actions we are each going to take.
As we begin a the fall semester with all courses online, we are presented with a new set of questions—how do we build a welcoming community for incoming students? How do we process these key issues and questions that affect each of our students and infuse our responses with Jewish values? How do we reach out and support one another through times that test each of us in terms of both mental and physical health?
We begin this next year working diligently to answer those questions the only way we know how: together. Through personal outreach and highly accessible virtual programming and content, we aim to fulfill our mission of enriching the lives of Jewish students at Goucher at a time when it is critically important. Thanks to your support, we can make a huge difference in our student's lives.
Thank you,

Rabbi Josh Snyder
Executive Director