Browsing articles in "M/CS Website"
A team of three Goucher students are competing on Saturday, October 25, in IBM's 33rd Annual Association for Computing Machinery International Collegiate Programming Contest, known colloquially as the "Battle of the Brains," at the Johns Hopkins University in Baltimore.
Under the leadership of Associate Professor of Mathematics and Computer Science Thomas Kelliher, Goucher students Dave Gage, Melissa Mento, and Jon Simon will have to solve eight complex programming problems on one computer in five hours.
The teammates will collaborate to rank the difficulty of the problems, deduce the requirements, design test beds, and build software systems that solve the problems with little guidance from the judges.
Goucher's team will compete against teams from five other schools in the region, including Johns Hopkins and Virginia Commonwealth University.
The team that solves the most problems correctly in the least amount of time will win a spot to compete in the world finals in Stockholm, Sweden.
Goucher has participated in the competition for more than 12 years and has won several honorable mentions.
For more information about the regional competitions, go online to http://icpc.baylor.edu/icpc/. To learn more about the contest, visit www.ibm.com/university/acmcontest/. Check out podcasts about the competitions at battleofthebrains.podbean.com.
Please welcome our new faculty member Micah Webster.  Micah has a B.S. in Mathematics from University of North Carolina at Chapel Hill and both M.S. and Ph.D in Mathematics from University of California, Irvine
An introduction from Micah:
"At 17, I became fascinated with mathematics. From studying the accident in our high school parking lot to looking at the effectiveness of aspirin, calculus left me wanting more. As an undergraduate student, I was exposed to not only the many applications of mathematics, but also its ability to instill critical thinking and problem solving skills in its students. As a math teacher, I focus on intuition, critical thinking, problem solving and of course applications!
My research area is nonlinear diffusions. I enjoy considering both theoretical and numerical questions. Coding models on a computer is a great way to gain intuition for theoretical results and to see your model in action. For example as a graduate student, I studied a model that describes how a chemical will travel through a polymer. The numerical results I produced on the computer gave me the insight I needed to go on and prove theoretical results. The main application of this work is in pharmaceuticals. My current research interest is image processing."
The winter department newsletter is now available. If you are interested in receiving this newsletter for our former majors and minors, please send an email to span.macs AT goucher.edu and provide us with your name, Goucher name (if different), major, and year of graduation. We would love to hear from all our former students!
Jordan Yoder won the Society of Industrial and Applied Mathematics Award for his talk at MathFest in San Jose this past August. His talk on his summer research was entitled "What do monosaccharides, lipids, and amino acids have to do with mathematics?". The SIAM award is presented to students who give outstanding talks about applied mathematics.
Congratulations Jordan!
Professor McKibben and long-time colleague/mentor Dr. David Keck continued their 5-year study of stochastic evolution equations this summer by tackling a new direction, namely stochastic differential game theory. Simply put, problems in this area are extensions of the well-known "cat and mouse" pursuit-evasion schemes, childhood game of tag, and jet-to-jet dogfighting. The progress made this summer will be presented at various conferences this year. Recent work in this direction has been published in Stochastic Analysis and Applications, and Nonlinear Analysis.
See Professor McKibbens's website for details.
The first department newsletter is now available.
Food!!
Department lunch, May 8, 12-2pm in the lounge.
Jelena Karanovic '99 returns to Goucher to discuss her research on patents and free software advocacy in the EU. Join this informal discussion with her in the Geen Community Center at 2:30, April 26.
This event is sponsored by the MaCS club and the Department of Modern Languages.
Jim Segedy will be showing his 3D Zombie strategy game that he wrote with Colin Davis at the Digital Arts Showcase today, April 20th, 2-4pm in the Julia Rogers Library.
Go check it out!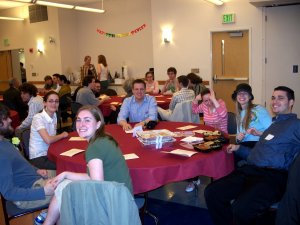 Fun was had by all at the Torrey Dinner.
Ian Elder, Joe Porembski, Sarah Smith, and Brad Szelistowski were inducted into Pi Mu Epsilon.
Jordan Yoder won the Leavitt award.
Jim Segedy won the Ekin award.
We also celebrated Euler's 300th birthday!