Browsing articles in "Uncategorized"
From the Studio 360 website-
A new study shows that young Americans are getting less creative. Ashley Merryman co-wrote "The Creativity Crisis," a Newsweek article that looks at the ramifications of this decline. Merryman tells Kurt that creative thinking, often neglected by schools, is not just for the arts — it's actually the key to solving some of the most difficult challenges we face today, from the gulf oil spill to fighting terrorism.
Masters of Arts in Digital Arts at Goucher College (MADA)

Please connect to receive announcements and news and related information about the Masters of Arts in Digital Arts at Goucher College.
BITS AND PIECES
Reception Saturday, July 17 from 12 – 2:30
July 6 – August 8
11:00AM – 4:00PM
Silber Gallery, Goucher College
1201 Dulaney Valley Road
Baltimore, MD 21204
410-337-6477
Gallery hours: Tuesday-Sunday, 11am-4pm
Exhibition dates: Tuesday, July 6 – Sunday August 8, 2010
Opening reception: Saturday, July 17, 12-2:30pm
The work featured in Bits and Pieces combines fragmented visual information to create sculptures, installations, mixed media works and drawings. Through assemblage, collage, obsessive mark making, and collecting previously existing images, objects come together and are juxtaposed to create something new.
Artists: Linda DePalma, Meaghan Harrison, Isabel Manalo, Jenee Mateer, Adam Rush, Virginia Warwick, and Lu Zang.
Curator: Laura Amussen
Janet & Walter Sondheim Artscape Prize at MICA
7/15 – 8/1 Reception Thursday, July 15 at 6 p.m.
Decker and Meyerhoff Galleries
Semi-Finalists Exhibition
July 16 – August 1, 2010
Decker and Meyerhoff Galleries, Fox Building, Maryland Institute College of Art
1301 Mount Royal Avenue
Thirty seven semi-finalists were selected in the first round of the Sondheim Prize. This exhibition expands on the finalist exhibition at The Baltimore Museum of Art by showing the broad range of artists whose work was reviewed in depth in the second round of the Sondheim review.
The Pew Research Center's Internet & American Life Project and Elon University's Imagining the Internet Center just released their fourth "Future of the Internet" survey, the topic of which was "The Future of Social Relations." The opt-in study, which tapped 895 tech stakeholders and critics, essentially presented respondents with two differing world views:
"In 2020, when I look at the big picture and consider my personal friendships, marriage and other relationships, I see that the internet has mostly been a positive force on my social world. And this will only grow more true in the future. "
Read more,
Chuck Close Prints: Process and Collaboration – Corcoran Gallery of Art.
"For over 30 years, renowned American portraitist Chuck Close has explored the art of printmaking, experimenting with innovative techniques that test and advance the limits of the medium. Chuck Close Prints: Process and Collaboration, which includes more than 100 finished images, proofs, and objects, is the first survey to consider this important artist's extensive and groundbreaking work in the field."
Chuck Close Prints: Process and Collaboration

July 3, 2010 – September 12, 2010

This is an article from the blog "Fuel your Creativity" written by Jennifer Moline
"Online portfolios are a key part of any creative professional's marketing arsenal. Whether you're a graphic designer, photographer, writer or some type of artist, prospective clients want to see your goods – they want to check out what your skills you have to offer them. However, displaying your hard work on the Internet puts it out here for thieves to exploit – those people might simply grab it. Some of them have malicious intentions, as they might pass your work samples off as their own for financial gain, while others simply don't know any better and may post your design or photo with no credit to illustrate a blog or adorn a website."
Please read the full article at,
http://www.fuelyourcreativity.com/how-to-protect-your-creative-work-online/
From  rhizome.org-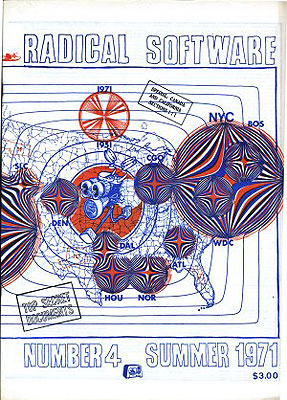 Beryl Korot describes the impetus behind the innovative 1970s publication Radical Software, elucidating the history of video in art and the impact of mass media on society. Emerging from an independent video community that included media visionaries such as Marshall McLuhan and groups such as Televisionaries, Videofreex, People's Video Theater, and Global Village, the first issue of Radical Software debuted in Spring of 1970 as a publication by the Raindance Corporation. Beryl Korot and Phyllis Segura (Gershuny) acted as Editors, while Michael Shamburg served as Publisher with Ira Schneider as co-Originator. Early contributors included Nam June Paik, Buckminster Fuller, Ant Farm, Frank Gillette, and Paul Ryan, among others. After eleven issues, Radical Software ceased publication in the Spring of 1974 and is now an invaluable time capsule of an era. This video is published on the occasion of the 40th anniversary of the first issue.
Check out this wonderful tool, Live. It's coming to MADArts … to the Max !