Browsing articles in "News"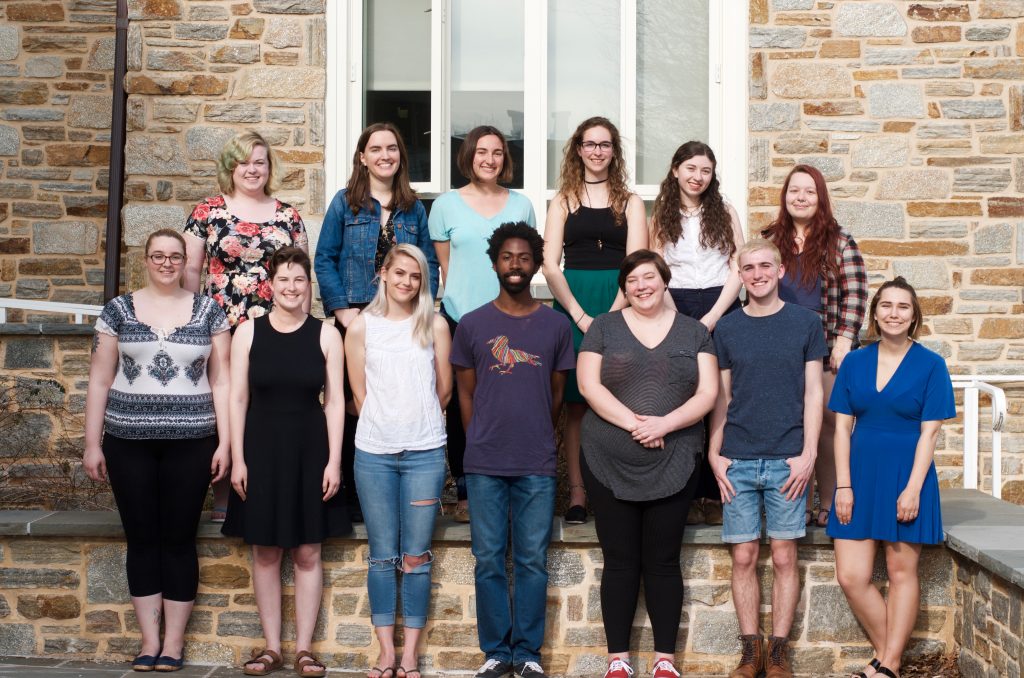 Photo by Lizzie Brown
Front row (l-r):  Samantha Kelly, Cydney Cohn, Havah Berg, Donche Golder, Anna Baptiste, David Hills, Madison Krchnavy.  Back row (l-r):  Kayla Snyder, Maya Petkovic; Erika DiPasquale; Anna Young; Julia Gerhardt; Jamie Tull.
Each year, the Kratz Center for Creative Writing at Goucher College offers writing fellowships for the summer. These awards range from between $1,000 to $3,000 and are open to all sophomores, juniors, and seniors who have taken a 200-level and a 300-level writing workshop at Goucher College. The fellowships fund worthy projects falling within the following areas: (1) travel and/or research connected to and culminating in a work of creative writing; (2) a writing-related internship at (for example) a literary magazine or book publisher; (3) attendance at a summer conference or workshop.
This year, the Kratz Center is pleased to welcome 16 students as the new 2017 Kratz Summer Writing Fellows (listed in alphabetical order):
Havah Berg's project will involve travel to churches in Italy, France and Spain, with the operating question: "Does the practice of worship in these ancient centers of worship harmonize or clash with the imposed modern world?"
Erika DiPasquale's fellowship will enable her to fulfill an internship at Pande Literary, a New York City literary agency.
Cydney Cohn's project will involve travel to specific locations in Israel, including Jerusalem, to write poems about the culture, region and religion.
Donche Golder's fellowship will enable him to travel across the U.S. by train and write poems that come out of the experience.
Kyle Graber's project involves a 10-day self-designed poetry writing retreat with a Zen meditation component.
David Hills's fellowship includes travel to and residence in New Orleans to write poems about the culture there (including, but not limited to, Voodoo).
Samantha Kelly's project involves road travel in either the Philadelphia/Delaware area or the Boston area to produce a photo-poetry journal on the experience.
Kayla Snyder's project features travel to Ireland to write poetry about the experience.
Anna Baptiste's fellowship will enable her to travel to the Maxfuncon West Convention in Lake Arrowhead, CA to write a set of interconnected short stories.
Julia Gerhardt's fellowship will allow her travel to work on a vineyard in Florence, Italy, and write fiction based on the experience
Sophia Hancock's fellowship will enable her to travel to Italy, Germany, France and Spain, to inspire short fiction from art and architecture
Madison Krchnavy's fellowship will involve travel to and residence in Canada with a group to write fiction on themes of friendship.
Maya Petkovic's fellowship will enable her to attend the New York State Summer Writers' Institute at Skidmore College.
William Stieglitz's fellowship will allow him to attend the Stony Brook Southampton Writers' Conference to complete his novel Boiling Point.
Jamie Tull's fellowship will support research and writing about opiate addiction and treatment.
Anna Young's fellowship will enable her to fulfill an internship at Bancroft Press in Baltimore.
To learn about our Summer Writing Fellowships for undergraduate students at Goucher College, please visit www.goucher.edu/kratzfellowships.
Information about last year's Kratz Summer Writing Fellowship Winners is available here.
The Fall 2016 visiting writer was Pulitzer Prize winner Jennifer Egan.
We were pleased to welcome the novelist Michael Kimball as the Spring 2014 Kratz Writer-in-Residence. Click here to read more about Michael Kimball's residency.
Eleanor Kratz Denoon    (1915 - 2010)
| | |
| --- | --- |
| | The founding donor of the Kratz Center for Creative Writing was Eleanor Kratz Denoon, class of 1936. She was a tireless champion of literature, a lifelong advocate for peace, and a beloved alumna of Goucher College. |