Panopto frequently asked questions and topics:
1. How do I log into Panopto?
For PC: If you are prompted to login to view or record a Panopto recording, choose Log in with GL Production and enter your usual Goucher username and password.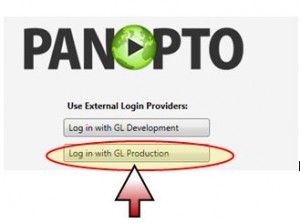 For Mac: After you have downloaded and opened the Panopto program, a prompt will pop up. The the "Server" field you must enter the link: goucher.hosted.panopto.com. Then click on the Providers section and change it to GL Production. After this, you can continue logging in as normal.
2. How do I make recordings available to students who added my course after Panopto was set up?
Enrollment between GoucherLearn courses and Panopto course recordings are synchronized at the beginning of the semester, but changes in enrollment must be done manually once classes are under way. If you need to give a student permission to view your recordings, here's how…
1.   From the course, turn editing on (top right)
2.   Go to the Panopto Focus block and click the gear icon in the title bar (tool tip reads "Configure Panopto Focus Block")

3.   Click "Add this course to Panopto (re-add to sync user lists)"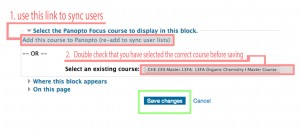 <–Click to enlarge
4.   Click "Back to config".
*IF* you are using recordings from a different course/section/term, reset the "Select an existing course" dropdown to the correct course.
5.   Click SAVE CHANGES button
3. Does my computer meet the system requirements for using Panopto?
The following are the hardware requirements for Panopto:
*  Windows XP (SP2) / Windows Vista / Windows 7
*  (32 and 64 bit) / Mac OSX 10.5 (and above)
*  Mac: Intel CPUs required
*  FireWire ports for digital cameras
*  Windows Media Player 10 (or higher) required for broadcast
*  USB ports for Webcams or other recording devices
*  Disable sleep mode, screen savers and scheduled tasks
The following are the network bandwidth requirements for Panopto:
 Operating Systems
Microsoft: Windows XP SP2, Vista, 7
Mac: Mac OS 10.4.8+ (Intel-based) (PPC-based NOT supported)
Processor: 1.8 GHz or higher 2.10 GHz
Memory:512MB 4.00 GB
Network Bandwidth: 50 Kbps for audio only presentations. 300 Kbps for presentations with one video stream, audio, PowerPoint and screen capture. 500 Kbps for presentations with multiple video streams. .61 mbps download.21mbps upload
Applications: Microsoft Silverlight 2.0+ Version 5.1.10411.0
Supported Browsers: Internet Explorer, Firefox, Chrome, Safari

4. Why don't I see the Record/Pause/Stop buttons?
Not to worry!  You can still activate the record, pause, and stop actions without clicking on them.  Panopto has keyboard shortcuts as follows:
Windows:
F8: begin recording
F9: pause recording
F10: stop recording
Mac:
⌘ + option + R: begin recording
⌘ + option + P: pause recording
⌘ + option + R: stop recording
5. How long will it take for my recording to show up in GoucherLearn?
Uploading will take approximately 30 seconds and the creation of podcasts/vodcasts will take approximately 20 minutes to show up on GoucherLearn.  The typical encode time is between 1/4 and 1/8 of the duration of the original recording. These times may vary depending on your computer specifications, internet connection, server queue and quality settings.
6.  Can I add a link to a video inside a GoucherLearn topic instead of using the PanoptoFocus block?
* Yes.  Run the Panopto Recorder, and under the "Recording Status" tab, click "Manage My Recordings".
* Find the video and click the SHARE icon –>

* Click "Make Public" in the pop-up window and copy the URL.
* You must add a link to a website to your GoucherLearn course page so students can view the video.  If you need instructions for adding the link to your course, click here.
7. What do I do if I want to reuse my recordings over several semesters?
* Add the Panopto Focus Block to your course if you haven't already.  Select Turn Editing On > Select the Add a Block drop-down menu > Select Panopto Focus.
* Click the "gear" icon in the block header and choose "Configure Panopto Focus block" –>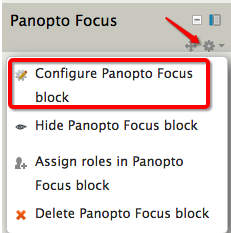 * Open the "Select an existing course" drop-down menu and select your course from a previous semester.
* Run the Panopto Recorder.  Under the "Recording Status" tab, click "Manage My Recordings."
* Find the video you wish to delete, and click the DELETE icon –>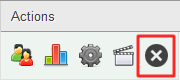 * In a few minutes, the link in the block will automatically be deleted.  You may have to refresh your web browser to see the change.
  9. Can my students upload videos to Panopto?
Yes but you as the teacher have to give them special access through a drop box.  Here's how:
1. Go to your course in GoucherLearn, find the Panopto block, and click on "Course Settings".
2. Go to "Overview" and click "Create a dropbox".
Your students will now be able to upload video responses.
10. How do I use the Panopto app on my smartphone or tablet?
First, download the Panopto app to your device from either the iTunes store or from Google Play. When prompted for your site's URL, enter "goucher.hosted.panopto.com" (without the quotes). A dropdown list will appear – choose "GL Production" from the list of options. Log in with your normal Goucher username and password.
11. Where can I get more information?
On This Site:
*   Goucher College Steps for Basic Recording
http://blogs.goucher.edu/knowledgebase/2012/07/11/panopto-lecture-capture-tool/
*  Goucher College "How-To" Video for Creating Panopto Recordings
http://support.panopto.com/focus-4-articles/23-windowsrecorder/339-basic-recording
From Panopto:
* Panopto Support has tutorials, videos, and advanced topics
*Panopto Frequently Asked Questions