What is Panopto?
Panopto is a lecture-capture software purchased by Goucher College for instructors to use within the GoucherLearn online course system.
How Do I Create A Recording?
1. REQUEST PANOPTO –
Step one is to request Panopto for your specific course(s) by emailing helpdesk@goucher.edu. A confirmation will be sent back when the configuration for the course(s) requested is complete. The PANOPTO FOCUS  block will then appear in the side column of the course.
2. DOWNLOAD RECORDER PROGRAM –
Go to the course in GoucherLearn and find the PanoptoFocus block on the side column. Use the links provided to Download Recorder to either a Windows or Mac computer.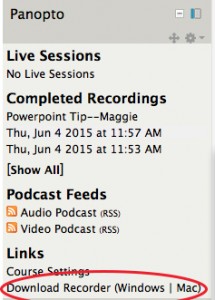 3. LAUNCH THE RECORDER –
Start the Panopto Recorder installed in the step above.


4. Log into Panopto
For PC: If you are prompted to login to view or record a Panopto recording, choose Log in with GL Production and enter your usual Goucher username and password.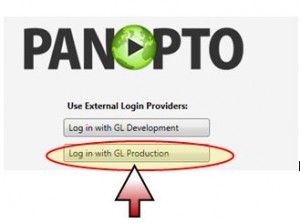 For Mac: After you have downloaded and opened the Panopto program, a prompt will pop up. The the "Server" field you must enter the link: goucher.hosted.panopto.com. Then click on the Providers section and change it to GL Production. After this, you can continue logging in as normal.
5. CHOOSE COURSE AND NEW SESSION NAME (Optional) –
If the Folder Name is not the name of the correct course, click the drop-down arrow on the right to see a list of your courses. Click ADD NEW SESSION for the correct course. If necessary, enter a new session name. This will ensure that your session uploads to your Goucher Learn Course.

 *NOTE: If you skip this step, you will need to upload your recording manually from the "Recording Status" tab later.
6. CHOOSE RECORDING SETTINGS (Optional) –
Double-check the Video, Audio, and Capture setting in the left-hand column. The default settings are usually correct, but adjustments can be made if desired.
Recommended setting: Check "Capture Primary screen" and uncheck "Capture PowerPoint".
7. RECORD  (PAUSE & STOP) –
Click the big red RECORD button to begin.  STOP and PAUSE buttons will become available, but it may be easier to minimize Panopto while recording and return to the program when finished to see the STOP button.You could also use keyboard shortcuts for these commands.
— For Windows:
Record = F8 Key
Pause = F9 Key
Stop = F10 Key
— For Macs:
Record/Stop = Option + Command + R
Pause = Option + Commands + P
The video will automatically be uploaded to the Panopto server for processing. This can take as long as 20 minutes. When the video is ready for viewing, a link will automatically be added to the course's PanoptoFocus block, and a notification will automatically be emailed to everyone enrolled in the class. ***Email notifications are part of the Panopto system and cannot be turned off.***
See Also…
To watch a video of these instructions click hereTo read Panopto FAQs click hereTo view more in-depth instructions, including a quick "how-to" video, visit  http://support.panopto.com/focus-4-articles/23-windowsrecorder/339-basic-recording.