BEFORE YOU BEGIN…
These instructions will not work from on-campus computers.
Mac users should use the Firefox browser only.
It is recommended you print these instructions first to follow along on the Remote Access page.
Preferred Method: Web Login
Note: Questions about Web Login for off-campus access to library databases? Contact the IT Help Desk at (410) 337-6322 or email helpdesk@goucher.edu.
To access the library databases from off-campus, click here. Make sure to keep "Research_Databases" in the first field, and then enter your Goucher College username and password to log in.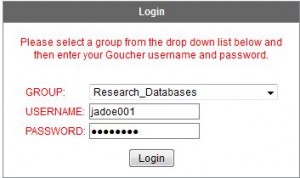 Once authenticated, a working link to the databases will appear (Goucher Library -> Articles and Databases). Click this link to start your research.


Mac users will receive a pop-up message asking them to open tunnel_jnlp.mac. Open this file and a new Firefox window will open with the Articles and Databases page. Opening the jnlp file will be required each time the remote databases site is accessed. 
While browsing the databases remotely, a toolbar will appear at the top of the browser window with options for starting a new search and logging out. Please remember to log out when you are finished. Note: Users will be logged out automatically after one hour of inactivity.

Secondary Method: Proxy
Note: Questions about accessing the library's databases via Proxy?  Contact the Library Reference Desk at (410) 337-6212 or email reference@goucher.edu.
Proxy Method for Off-Campus Access. This method involves making a one-time change to your home PC's browser options.
Use this method if:
You only want to use the library's collection of databases and electronic resources;
You are using an off-campus computer connected to an Internet Service Provider (ISP) through a modem or Digital Subscriber Line (DSL).