Goucher Repertory Dance Ensemble Fall Concert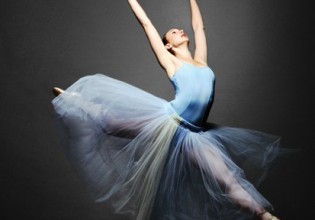 The 2012 Goucher Repertory Dance Ensemble Fall Concert – held Friday, November 16, through Sunday, November 18 – will feature Goucher students performing ballet and modern works by guest artists Doug Elkins and Melissa Barak, as well as new works by Goucher faculty.
The concert will be at 7:30 p.m. on Friday and Saturday and at 2 p.m. on Sunday; all performances will take place in Kraushaar Auditorium and are open to the public. Tickets are $15 general admission and $5 for students and senior citizens. Reservations must be made in advance at www.goucher.edu/tickets or by calling 410-337-6333.
Attendees will also have a chance to meet the artists at a pre-show welcome event on Friday, November 16, at 6:45 p.m. in Goucher's Rosenberg Gallery.
Elkins, the Fall 2012 modern dance guest artist, is a performer and choreographer. He performed hip-hop in New York City clubs and toured the world with break dance groups before finding his way to the international post-modern scene and founding the Doug Elkins Dance Company.
Barack, the Fall 2011 ballet guest artist, is a former ballet dancer with New York City Ballet, who, at 22-years-old, was the youngest choreographer in the company's history to be commissioned for an original work. She has been named one of the "Top 25 to Watch" by Dance Magazine and has had numerous articles written about her in such publications as Pointe magazine, Dance Spirit, TimeOut New York, ELLE Girl, and Los Angeles Times Magazine.
Goucher dancers will also perform from Pascal Rioult's Wien under the direction of RIOULT company member and modern guest artist Brian Flynn. In addition, they will present a suite of dances from the opera Dido and Aeneas, choreographed by Goucher dance instructor Katherine Ferguson.
Goucher Associate Professor of Dance Juliet Forrest will introduce the new work "Corrupted Culture," a sardonic comment about technology and its impact on society, while dance instructor Linda Garofalo will present a new contemporary work titled "Spectrum," which experiments with movement invention inspired by sculpture, color, and spatial design.