Margaret Murphy, A Ten-Year Survey Decoding the Marketplace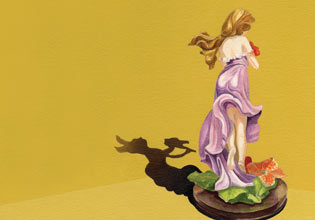 In Margaret Murphy, A Ten-Year Survey, Decoding the Marketplace: coupons, dollar stores, and eBay, a new art exhibit at Goucher College, Murphy finds inspirations in everyday life and turns them into a critical dialogue about contemporary culture.
The exhibit, which is free and open to the public, runs in the Rosenberg Gallery on Goucher's campus from Wednesday, October 17, through Friday, January 4. The art can be viewed Monday through Sunday from 9 a.m. to 5 p.m. An artist's reception will be held Friday, November 9, 6-9 p.m. Call 410-337-6477 or visit www.goucher.edu/rosenberg for more information.
Highlighting the last decade of the artist's career through about 40 select paintings, mixed-media works on paper, and installations, the exhibit pulls from several of her important series: The Tarot Cards (1997-2000), The Henna Hands (2001) The Decoy(2002 – 2005), The Sweet 16 (2005 – 2007), The Parlor Paintings (2006-2007),Celebration (2008 – 2009), and The Fragments (2010). For the exhibit, mass-produced objects represent Murphy's reflections on consumerism, religion, and gender roles. A deck of cards and a dollar-store ring find their way into the paintings in provocative and conceptually meaningful ways.
Earlier works included in this exhibit humorously critique attachment to the material world by focusing on cultural stereotypes and "quick fixes." Later series reveal Murphy's feminist concerns because the protagonists embody images of "female identification," ranging from a caring mother to a seductive dancer.
The exhibit is curated by Midori Yoshimoto, associate professor of art history and director of two galleries at New Jersey City University. More information about Murphy, a Baltimore-born artist, can be found at www.margaret-murphy.com.