The President's Forum Presents Jon Huntsman Jr.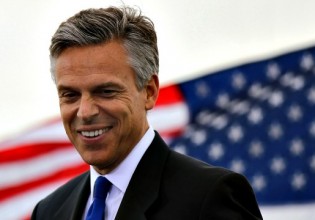 Jon Huntsman Jr.—former 2012 Republican presidential candidate, former governor of Utah, and former U.S. ambassador to China—will give the Fall 2012 President's Forum talk, titled "Election 2012 and the Challenges Facing America Today," on Monday, November 19, at 8 p.m. in the Hyman Forum of the Athenaeum at Goucher College.
This event is free and open to the public, but tickets must be reserved at www.goucher.edu/tickets or by calling 410-337-6333.
Huntsman's public service career began as a White House staff assistant to President Ronald Reagan. He remained in Washington after George H. W. Bush became president, serving as deputy assistant commerce secretary in the trade development bureau, as deputy commerce secretary for East Asia and the Pacific, and as U.S. ambassador to Singapore. Huntsman was only 32 when he received his first ambassadorship, making him the youngest head of an American diplomatic mission in more than a hundred years.
After his overseas posting ended, Huntsman left government service to go work as an executive in his family's chemical corporation. In 2001 he accepted an appointment from President George W. Bush to serve as deputy United States trade representative. He then decided to run to become Utah's 16th governor in 2004. He easily defeated Democrat Scott Matheson, Jr. with 57% of the vote.
A Republican, Huntsman took a generally conservative path as governor, but with twists: He cut taxes but supported civil unions and loosened liquor laws to promote tourism.
During his tenure as governor, Utah was repeatedly recognized for its dynamism, business climate, and quality of life, and it was named by the Pew Center as the "Best Managed State in America."
He was easily re-elected in 2008, garnering 77% of the vote, but resigned in 2009 after being picked by President Barack Obama to be the U.S. ambassador to China. He impressed his hosts with his immense knowledge of their culture; fluency in Mandarin; and by his riding a bicycle to meetings, rather than travelling by motorcade.
In 2011, Huntsman resigned his post to return to the United States to pursue the nomination of the Republican Party for president of the United States. After a disappointing third-place finish in the 2012 New Hampshire Republican Primary, Huntsman resigned from the race.
While he has since endorsed Mitt Romney for president, Huntsman continues to question some of his party's platform. He refused to attend the 2012 Republican Convention, telling the Salt Lake City Tribune that he will not go this or any future party convention "until the party focuses on a bigger, bolder, more confident future for the United States—a future based on problem solving, inclusiveness, and a willingness to address the trust deficit, which is every bit as corrosive as our fiscal and economic deficits."
Huntsman's appearance is sponsored by the Office of the President and is part of this fall's schedule of politically themed events at Goucher College.
The President's Forum at Goucher College brings to campus notable figures from various fields and backgrounds for incisive discussions and lively debates on today's most vital issues. Presented several times a year, the Forum is an open invitation to the members of our community—both on campus and beyond—to participate in the intellectual life of the college through open dialogue on topics both relevant and timely.
Media Contact
Kristen Pinheiro
Media Relations Director
kristen.pinheiro@goucher.edu
410-337-6316