Lindsay Stuart Hill '09 Poetry Reading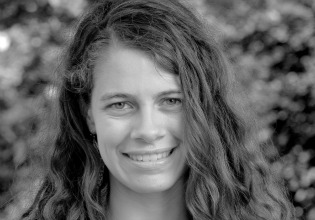 Lindsay Stuart Hill, a 2009 creative writing graduate of Goucher College, returns for a poetry reading and question-and-answer session on Monday, March 4, at 4 p.m. in the Batza Room of the Athenaeum.
The event is free and open to the public. For more information, contact kratz@goucher.edu.
Hill recently released One Life, a chapbook of poems that includes a piece inspired by a Japanese official who responded to a student's suicide threat by saying, "You have only one life, and that life is not yours alone."
She received two Summer Writing Fellowships from the Kratz Center for Creative Writing to write poetry in Ireland and at Zen Mountain Monastery in New York. Her work has appeared in Ploughshares, Five Points, and The Norton Pocket Book of Writing by Students.
Since graduating, Hill has been employed as the poet-in-residence at the Carver Center in Towson, the editorial assistant for the Goucher Quarterly, and as a bookseller at the Ivy Bookshop in Mount Washington. This year, she began her MFA in poetry at the University of Virginia.