Advocates for a Day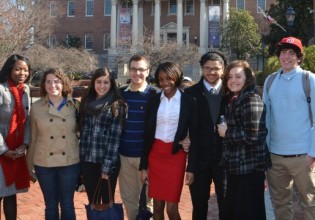 Dylan Collins isn't interested in becoming a politician himself, but the sophomore did have a chance to speak with a few at the annual Maryland Independent Higher Education Day on February 14. The event, which celebrated 40 years of the Sellinger Program, was sponsored by the Maryland Independent College and University Association (MICUA), of which Goucher is a member, and brought college students and administrators from across the state to Maryland's capital for a briefing and visits with elected officials.
"It's a nice experience, and it's an honor to represent Goucher," said Collins, one of nine students from Maryland who traveled to the State House in Annapolis for the event with President Ungar and other campus staff.
Collins said the day helped him understand more of what happens at Goucher, from how the Capital Grant Program supports projects such as the Athenaeum, to the impact of the Sellinger Program, which was started to supply public support to private colleges and universities in Maryland to preserve and strengthen a dual system of higher education.
Susan Aumann, a Republican delegate from District 42 who met with students, said she knows the strength of the Sellinger Program. "It really helps students afford to go to these wonderful schools. The education you are receiving with the international focus is just fabulous," she told Goucher students.
From the impact of studying abroad in Spain, mental health research they plan to pursue, and ways they've been involved in serving their communities, Goucher students also shared their own stories of how they are benefiting directly from state financial support of private colleges and universities.
Jessica Leffers '16 said she had been nervous about speaking with the legislators initially, but she was easily able to talk about her own college experience and the importance of supporting private higher education. "It felt very genuine," she said of her interactions with delegates, senators, and staffers.
President Ungar and many of the students met with Senator Jim Brochin, a Baltimore County Democrat also from District 42. Instead of debating the merits of the Sellinger Program this year, Brochin asked a question about gun control. "What do you guys think we should do?" he quizzed the room, passing out a bill draft regarding mental health and firearms. Students quickly stepped in with their opinions.
Joey Fink '15 said it was encouraging to meet with legislators such as Brochin. "It's really cool to be able to talk to them, to possibly have an effect on what happens and what is said. I'm their constituent, so they do have to listen to me. I'm glad we have that right," said Fink, who has had some experience interacting with legislators after working with the civil rights organization Equality Maryland.
Wendy Belzer Litzke, Goucher's vice president for government and community relations, said when she first started organizing the event eight years ago, four or five students would attend from the college, but participation has doubled in recent years as interest in the program has grown.
It was the third time attending Higher Education Day for Kiara Bonner '13, who says she was happy to participate because she feels students do make a difference. "Without student representation it would be a dead message; I feel like I represent students who need it," she said.
The trip didn't just impact students and legislators. Mileah Kromer, political science assistant professor and director of the Sarah T. Hughes Field Politics Center, also went on visits with students and scored some possible class speakers. "I teach state politics — for me this is like going to Disney World," she said.
Photo: Students in Annapolis (from left to right): Kiara Bonner '13, Ellie Davidson Wolf '14, Jessica Leffer '16, Joey Fink '15, Faith Pearson '15, Christian Ribeiro '15, Morgan Stevens '15, Dylan Collins '15. Missing: Kerry Michael '13
For more photos of the day, click here.