Girl [Computer] Power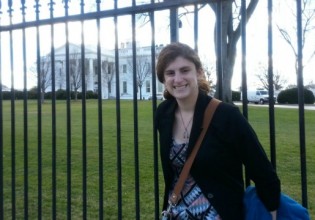 Goucher first-year student Julie Hubschman's love of computer science will likely take her far in life. It already has taken her to the White House.
At the January 31 White House Tech Inclusion Summit, Hubschman was able to network with professionals and joined other students in listening to speakers, including the U.S. chief technology officer and executives from Microsoft and the National Science Foundation. The event is an annual gathering of innovative thinkers from business, government, nonprofits, and the tech world to ensure that all Americans–particularly those from underserved and historically underrepresented communities, including women and girls—have the opportunity to learn technology skills.
The Atlanta native was invited to attend the event after she won an award from the National Center for Women and Information Technology (NCWIT) last year. With the award, Hubschman gained scholarship money, as well as professional perspective and an introduction to a dedicated community of like-minded young women.
"It also gave me more confidence in what I wanted to do," she said. Though always interested in technology—thanks to her parents and penchant for Legos—Hubschman said she felt embraced at the summit, even though she was the only student from a liberal arts college. "You get treated like a princess in your own sort of way."
She said there is a lot of distortion about what computer science is, and though science, technology, engineering, and mathematics curricula are being promoted for women and minorities, more can be done. "When people hear computer science they think one thing, but that's not always what computer science is," she said. "Computer science is thinking; it's a broader subject than what people make it out to be."
At Goucher Hubschman plans to declare an interdisciplinary major, merging computer science, cognitive science, and math to study artificial intelligence. Also a baritone saxophone player, she chose the school partially for the flexibility of its academic offerings. "I wanted to play music and not be a music major," she said. "That's really hard to find in most schools, but Goucher let me do everything and make my own major."
She has found a campus community that is open to women in technology and already is doing independent work with Jill Zimmerman, department chair and professor of mathematics and computer science. They are collaborating on a course Zimmerman is developing for next year that explores cognition through the lens of artificial intelligence. Zimmerman said there's need for equality in computer sciences, with the nationwide numbers reflecting room for women to grow.
"The lack of representation in technology is why there are so many initiatives encouraging women to enter the computer field," said Zimmerman, who fell in love with computer science after her own father encouraged her to pursue it.
Though Hubschman said she finds the Goucher community to be a place where she can get involved and further her skills in a supportive environment, she also relies on her NCWIT peers for additional support. Despite diverse backgrounds, the students use Facebook to share projects and information. "We try to find ways to possibly improve what's going on around us," she said.