Around the World in Three Weeks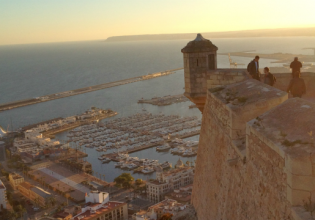 This January some Goucher students were home enjoying some well-deserved down time between semesters. Others were off living and learning in far-flung locales.
About 50 Goucher students were experiencing cultural and historical sites, taking classes, and earning credit as part of the college's three-week intensive courses abroad (ICA) programs in areas such as Honduras, South Africa, Spain, and West Africa.
Trisha Kallis '14, a communications and media studies major on a Spanish 130 trip to Alicante, Spain, said the ICA was a convenient way to complete her language and study abroad requirements.
Before the trip she said she was hoping to be out of her element. Spain certainly delivered. Kallis enjoyed having spending long days (dinner is served at 9:30 p.m.), eating different food, befriending classmates she hadn't known well before, and learning how to communicate with limited language skills.
The academic portion, especially her four-and-a-half-hour language classes from Monday to Friday, helped her learn quickly. "I feel that in a class in America with 20 other English-speaking students I didn't try as hard as I did in Spain to speak Spanish," she said. "It was also really eye opening … . The people I spoke with in Spain who knew I only spoke a little Spanish were always very patient and never made me feel bad at all … . It's such a beautiful language … . I fell in love with it," she said.
Fellow Spanish 130 ICA student Alexa Gaines '14 said being completely immersed in Spanish quickly improved her language skills as well. "Even though we had a lot of material to learn in a short amount of time it didn't seem rushed at all," said the math major.
Before the trip, she was nervous about living with a host family who might not speak English. It turns out they didn't. But they were able to communicate, especially near the end of the trip when Gaines was able to pick up on conversations more easily. "We even had a family movie night together, which was really fun," she said.
Kallis said the trip was incredible and she would recommend an ICA to any Goucher student. Gaines agrees. "The professors were amazing; the excursions were incredible, and living in Spain in general was a whirlwind," Gaines said. "I would do this trip again in a heartbeat."
Not all ICA programs run every year; some are offered every other year, and some are only offered once. Many of the intensive, living-learning experiences are accompanied by a pre-course or post-course, allowing students and faculty to immerse themselves in study of the topic and region.
In Tropical Marine Biology, a long-running ICA, students had an intensive five-day class on campus before leaving for Honduras in which they learned about organisms, ecology, and behaviors before they even got in the water.
"There were comments about how they really valued all the knowledge base they had," said Assistant Professor of Biology Cynthia Kicklighter, who co-leads the trip. In Honduras students saw a keen difference between a protected marine reserve and the open water. She said the group, of diverse classes and majors, receives a better understanding of the ecosystem as a whole when they are actually in it, a clear benefit to the ICA.
Hannah Fenster '15 went on the History, Society, and Culture of West Africa ICA. "Many times, I felt as if I had stepped into the books I had read about West Africa— I was living the words I had read on the page and understanding details only accessible through experience," said the English major, who plans on adding to her experience abroad by studying at Oxford University next year.
Although the summer ICA programs are already full and deadlines are past, the application for winter 2014 is due April 5, 2013. So far History, Society, and Culture of West Africa will be offered again, and a new course, Spanish 130 in Peru, will kick off. To learn about these and other planned trips, visit the Office of International Studies.