Unnatural Nature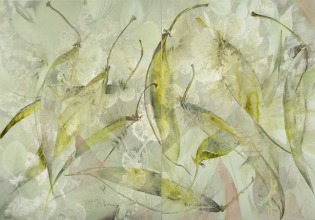 In Unnatural Nature, a new art exhibit at Goucher College, seven Baltimore-area artists present works inspired by nature.
The exhibit, which is free and open to the public, runs in the Silber Art Gallery on Goucher's campus from Tuesday, February 5, to Sunday, March 24. The art can be viewed Tuesday through Sunday from 11 a.m. to 4 p.m. An artists' reception will be held Friday, March 1, 6-9 p.m. Call 410-337-6477 or visit www.goucher.edu/silber for more information.
Works by artists Zoe Friedman, Stephanie Garmey, Clarissa Gregory, Christine Neill, Lynne Parks, Marcia Wolfson Ray, and Olivia Rodriguez explore the balance and breadth of the natural world and how it intersects with the unnatural.
Multimedia artist Zoe Friedman isolates images of nature and assembles them to form large geometric landscapes. Through repetition and inversion, extensive patterning reveals the hidden geometries always present within organic forms. Primarily working with installation and video, and drawn to mystical elements and methodical systems, Friedman explores how pattern can evoke a sense of the sacred.
Stephanie Garmey is inspired by bits of lichen, pieces of feather, snakeskin, boxes of insects, wasp nests, fossils, and a collection of antique mounted animals that adorn her home and studio. Garmey's art reflects her memories of many years of walking the woods and researching exotic environments, and it considers humanity's small place in the much larger context of the world's natural wonders.
Clarissa Gregory's drawings, stop-motion animations, and dioramas are an invitation to wander, hike, dig, and climb through visual pathways. In her work, which echoes nature's mystery, areas of growth intermingle with decay along an unpredictable path.
Nature has long been the subject of Christine Neill's mixed-media paintings and prints. The transparency of watercolor and the digital processes she uses express the unseen states of nature. She uses light and shadow, vivid and rotting color, and familiar and menacing shapes as a reminder that all individuals have a deep-rooted connection to the earth and that similar biological processes bind the natural and human worlds.
Self-taught visual artist Lynne Parks works in photography and assemblage. In her work she reveals a deep concern for the plight of migratory birds. In showing these portraits taken during the spring 2012 bird migration, Parks hopes to bring awareness to the millions of birds that die yearly in collisions with buildings when confused by urban lighting.
Marcia Wolfson Ray finds material in fields, marshes, by the side of highways, and in vacant city lots. The materials Ray collects sometimes sit in her studio for years: Some petrify and become stronger, while others disintegrate to dust. This gives her a hint of what she can build with them to convey to the viewer an intensity that transcends words.
Olivia Rodriguez explores the micro-violence and slow decay of nature by focusing on naturally occurring and manmade domains that are generally overlooked. she is inspired by the beauty that occurs in a subject after it has been spent on its primary purpose.  Whether a mushroom, a bee, or a discarded chicken wing, these things move through human consciousness barely noticed and reveal stories and secrets in their period of transition.