The Clearing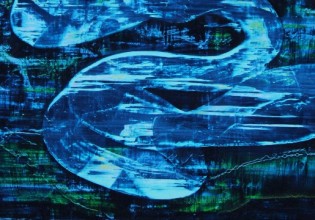 In The Clearing, a new art exhibit at Goucher College, Paul Jeanes presents new works based on images and memories of a recent drive across Iceland.
The exhibit, which is free and open to the public, runs in the Rosenberg Gallery on Goucher's campus from Wednesday, January 9, to Sunday, March 24. The art can be viewed Monday through Sunday from 9 a.m. to 5 p.m. A reception will be held Friday, March 1, 6-9 p.m. Call 410-337-6477 or visit www.goucher.edu/rosenberg for more information.
In his work, Jeanes explores the processes of corrosion, liquefaction, and stratification as incidental approaches to creation. Each of his works is developed improvisationally, without a finalized plan, and up to 25 layers of paint are individually applied and removed from each painting. Through this labor-intensive process of application and removal, he attempts to depict a turbulent atmosphere where shifting fragments and gestures are both illuminated and obscured. His approach to art-making remains primitive, at times naïve, and it continues to create a space for ultimate potential.
For more information on Jeanes, a Baltimore resident and Maryland Institute College of Art and Towson University instructor, visit www.pauljeanes.com.