53rd Annual Henry and Ruth Blaustein Rosenberg Lecture-Performance: Canadian Brass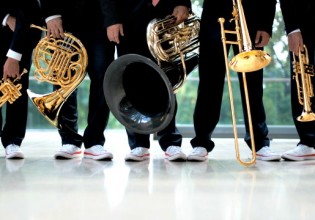 Canadian Brass, hailed as "the world's most famous brass group," will be featured at Goucher College's 53rd Annual Henry and Ruth Blaustein Rosenberg Lecture-Performance on Sunday, March 3, at 7 p.m. in Kraushaar Auditorium.
This event is open to the public, but tickets are required for all attendees. Tickets are free for Goucher students, faculty, staff, and alumnae/i; $10 for general admission. Reservations must be made in advance by logging on to www.goucher.edu/tickets or by calling 410-337-6333.
Five brass musicians — each a virtuoso in his own right — form the Canadian Brass, recognized internationally as the most popular brass ensemble performing today. Members are group leader Chuck Daellenbach on tuba, Christopher Coletti and Caleb Hudson on trumpet, Achilles Liarmakopoulos on trombone, and Eric Reed on French horn.
Together, they perform a repertoire of brass standards, as well as the works of Renaissance and Baroque masters, classical works, marches, holiday favorites, ragtime, Dixieland, Latin, jazz, big band, Broadway, Christian music, and popular songs and standards.
With a discography of more than 100 albums and an extensive worldwide touring schedule, Canadian Brass has been an important pioneer in bringing brass music to mass audiences everywhere. It has sold well more than 2 million albums worldwide. The group continues to score Billboard chart positions — most recently with Stars & Stripes: Canadian Brass Salute America, a recording of patriotic songs and marches that spent eight weeks in the Top 25 on the Billboard classical chart during the summer of 2010, peaking at No. 2.
Masterful at concert presentations — from formal classical concerts to music served up with lively dialogue and theatrical effects — Canadian Brass has developed a uniquely engaging stage presence and rapport with audiences. It has performed throughout the United States, Canada, Japan, Europe, Australia, the Middle East, the former Soviet Union, and South America. The quintet was the first brass ensemble from the West to perform in the People's Republic of China, where it performed a five-city tour to great acclaim in the spring of 2010, and it was the first brass group to take the stage at Carnegie Hall. On numerous occasions Canadian Brass has been invited by the Canadian government to play for visiting heads of state.
Additionally, Canadian Brass has appeared on The Tonight Show, Today, and Entertainment Tonight and has performed on Evening at Pops with John Williams and the Boston Pops; Beverly Sills' Music Around the World; and on numerous PBS specials, including an appearance on Sesame Street. The group is also a frequent guest of many major symphony orchestras.
Now entering its 41st season, Canadian Brass has entertained millions of fans around the world and continues to be hailed for its entertaining concerts and recordings for music lovers of all backgrounds and musical tastes.
For almost five decades, the annual Henry and Ruth Blaustein Rosenberg Lecture-Performance has featured notable musicians, including Simone Dinnerstein, Leon Fleisher, Nathan Gunn, Yo-Yo Ma, Aaron Copland, Ravi Shankar, and Cyrus Chestnut. Established in 1959 with a gift from the Louis and Henrietta Blaustein Foundation, the Rosenberg Lecture-Performance honors the late Henry and Ruth Blaustein Rosenberg, the latter a 1921 Goucher alumna.