Q & A with West Africa ICA Faculty Team Member Lindsay Johnson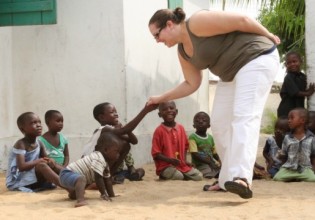 Below is a question-and-answer session with Lindsay Johnson in which she discusses her experiences with the History, Society, and Culture of West Africa intensive course abroad (ICA). She initially participated as a student and is tackling her eighth trip this January, now as part of the faculty team. She is the associate director for community-based learning and community service programs at Goucher College.
How many years have you been involved in the West Africa ICA?
I actually started going on this ICA as a student. I went for the first time in January of 2003 (my sophomore year) and then returned in 2005 as a teaching assistant for the ICA. After I graduated, I was asked to participate in the program as a co-faculty director, and this January will by my third time running the ICA as a part of the faculty team.  All in all, this will be my eighth trip.
Why West Africa? What do you think are the main things students learn or experience that they couldn't if they were in a classroom here?
When I first chose the ICA as a student, I did it because I had a keen interest in traveling to a place like West Africa, and I was particularly interested in the music and the dance. As someone who grew up in the American South, I also have always had a personal interest in the history of the trans-Atlantic slave trade. I figured there was no better way to understand it than to actually go there and visit the places most notoriously known for slave trading. Over the years, my interests in West Africa have shifted, and grown. Our course highlights the intersection of history, modern society, religious practice, culture, and the arts. We want our students to practice West African dance and music. We want our students to understand the ways that colonization shaped modern West African society, but also we're curious about post-colonial development and independence and how that has shaped daily life, education, and democracy. We challenge our students to think about the beautiful complexity of developing nations and the struggle leaders have against violence and corruption. And they see the symbiotic role of the arts through all of it—from funerals to daily fishing—a constant reminder of the power of music and dance as a means for storytelling.  By expanding the program to include Benin and Togo, we've been able to integrate the study of voodoo ("vodu") as a religion and the relationship between Christianity and other traditional religions and, more importantly, between people and the sacred.
The things our students see and experience can't even be compared to something learned in a classroom here at Goucher. They make brilliant connections with our local friends in Ghana, Togo, and Benin, and their host families in Cape Coast, Ghana. They dance and learn drumming in intensive workshops and travel extensively through three countries. They eat fufu (a doughlike ball of cassava), plantains, and fresh pineapple. They feel the heat of sub-Saharan Africa. They hear the languages being spoken in the marketplace. They meet more goats than they could ever possibly count. More than reading a book, it is a multi-sensory experience. There is a need to be present. To participate. To observe. To learn.
Do you have any reflections on the different between going on an ICA as a student and going now as an instructor?
The truth is that I learn more every time I go—both for myself, but also as a teacher. Each time, I get to share this experience with a new group of Goucher students, who all see new and different things and ask hard questions of themselves and of the places we visit. We struggle with our definitions of poverty, and how we define wealth. We do a lot of laughing and dancing and exploring. I've spent most of my adulthood traveling back and forth, and these experiences, though they are short, are incredibly powerful. I feel changed a little bit more each time.