Previewing the Gopher Life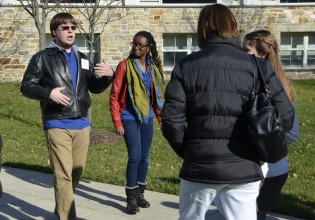 Explore Goucher Day, held this semester on Monday, October 8, and Friday, November 9, is a chance for both parents and students to learn more about college and the opportunities available to Gophers.
Romaine Harris took the day off last week to visit Goucher with daughter Destiny, a senior at Baltimore Polytechnic Institute. Destiny first learned about Goucher after attending a play here in elementary school, but a Goucher representative recently came to her high school and rekindled her curiosity. "I wanted to see the campus and see what life is like," she said of her first college tour. Harris said she was impressed with the services for first-year students, from academic support to financial aid, plus the basic information on applying.
The Explore Goucher Day program started decades ago and generally attracts students from all over the country. Assistant Director and Coordinator of Operations in Admissions Cyndy Cowles said the latest event was impacted by Hurricane Sandy, with many of the New Jersey and New York students canceling beforehand as the states struggled with gas rationing and power outages post storm. Even with the effect of the storm, more than 100 students and parents attended from states as far away as California, Texas, and Washington.
Cowles said the event helps prospective students move to the next phase after checking out the website or an initial chat about the college with a representative or counselor. "For many students this is the first time they've been on campus," she said. "They have an impression in their mind, but on campus they can decide if that impression is true."
DC resident Tom Kirlin, who came with daughter Kate, said he liked the setting of the college—"not isolated, yet self-contained"—but was most struck by the students. "There's a sense of independence," he said. "It's interesting to see how they compose themselves."
High school senior Danny Catlin and his father Dan were visiting from Brunswick, ME. Catlin heard about Goucher from his school counselor and decided to check out the college as he looked at other Mid-Atlantic schools. He said he was struck by the beautiful campus and the friendliness of everyone. "It's always better to come down and see things," agreed Dan Catlin. "There are a lot of things you can't see in a brochure."
The event repeats again in the spring semester, reaching out to high school juniors as they start thinking about next steps in the college decision process. Spring Explore Goucher Day will be held Saturday, April 20. "It definitely is a community event; it takes everyone to help welcome and inform prospective students and their families," Cowles said. "Admissions appreciates the help from everyone."
Photo Caption: Campus Ambassadors Yasha Rayzberg '15 and Nyah Macklin '16 lead a tour for prospective students and parents on Friday, November 9, during Explore Goucher Day.